Rasabihari Dasi the Bharata Natyam dancer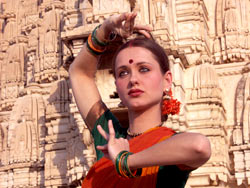 Rasabihari Dasi is an exponent of Bharata Natyam. Although she is a native Czech, her connections with Indian culture and philosophy are deep and profound. At the age of 15, she began her spiritual journey, looking for a deeper meaning of life. She became captivated by the vast spiritual knowledge found in the Vedas, ancient Indian scriptures, and decided to change her approach to life.
As a child, Rasa was trained in gymnastics, and later, she was exposed to different western dance styles. After taking up spiritual life, she desired to express her feelings for aesthetics through the medium of a classical Indian dance form. Bharata Natyam, being her favorite dance form, has become an integral part of her life.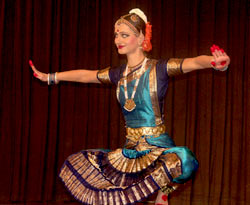 Rasabihari began studying this unique dance in 1998, and in 1999 she went to India and began her formal training in New Delhi under the able tutelage of the renowned Bharata Natyam Guru, Jamuna Krishnan. Since that time, Rasa has been spending three to four months every year in India perfecting her dance technique as well as her understanding of all related subjects.
Rasabihari sees her dance in a traditional concept. This dance was created and has evolved as an offering to God and as a path of self-realization. It is in this way, Rasa feels, that this dance should be performed and viewed in order to maintain and relish its mystical beauty and spiritual message.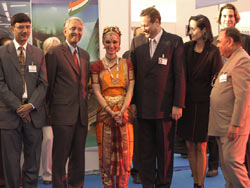 Since 1999, she has given more than 100 performances on different occasions and in different countries such as the Czech Republic, India, Hungary, Germany, Ireland and Denmark. Besides her solo performances, Rasa has also danced as a member of Kalangan troupe in ballet dramas in India in 2003 and 2004. In Prague, she is a regular dancer at all representative functions of the Indian Embassy in the Czech Republic.
In 2005 she received a sholarship from the Indian Council for Cultural Relationships (ICCR)  for a dance project based on the poetry of Andaal and Mirabhai.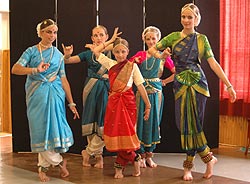 Rasa opens up her every performance with a clear explanation thus making even the western audiances understand the complexed fine details of this dance form.
In 2004 Rasabihari  received a certificate which qualifies her to perform and teach dance on a professional level.