Bharatanatyam guru - teacher Jamuna Krishnan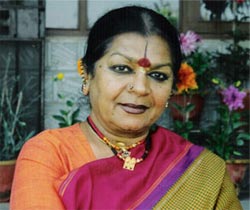 Rasabihari is the disciple of the Bharatanatyam teacher Yamuna Krishnan.
One of the most respected performers, teachers and scholars of Bharatanatyam, Jamuna brings to Bharatanatyam her own unique sensibility and individuality. Trained by some of the finest teachers in the field of Bharatanatyam and Carnatic Music, and steeped in the traditional performing format for well over 15 years of her dance career, her singular contribution to Bharatanatyam lies in adapting North-Indian devotional and love poetry to the stringent dance technique, thereby making the art form more accessible to the audience in North-India.
In addition to her credit as a performer, Jamuna is also a revered teacher. In her capacity as a teacher for over 2 decades, she has brought to stage several well-known dancers from all over the world, who have emerged as teachers in their own right.
In recognition of her unparalleled contribution to Bharatanatyam, she has been conferred with several prestigious awards and titles, prominent among them being, the 'Parishad Samman' in 2003, conferred by the Sahitya Kala Parishad, New Delhi, the cultural wing of the Delhi government.
As Director, Kalangan Centre for Classical Arts, Jamuna continues to teach and perform, thereby extending the frontiers of Bharatanatyam towards new horizons.